za.
4
december
-
do.
4
november
2021
Rondrit met de Vliehors Expres
Kaartverkoop online of bij Dorpsstraat 20.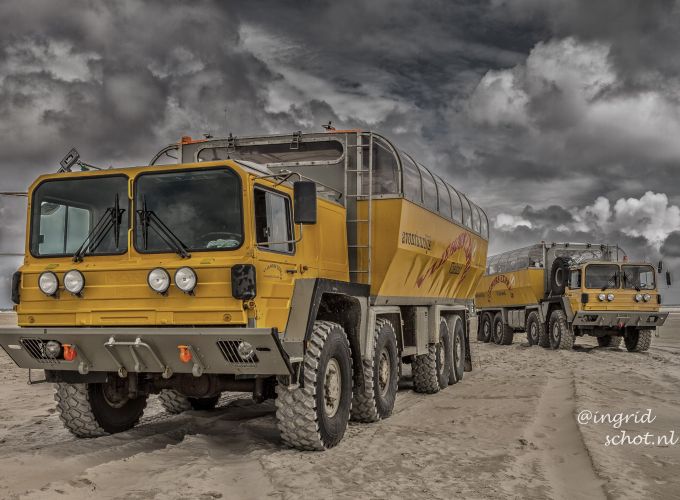 excursie
Een unieke ervaring in een fantastisch on Nederlands landschap.
Stap in bij de Vliehors Expres en maak tijdens een rondrit kennis met de weidsheid van de Vliehors. Onderweg wordt er een stop gemaakt bij het drenkelingenhuisje. Al meer dan honderd jaar een vluchthuisje voor gestrande schipbreukelingen, nu ingericht als juttersmuseum.
Op het meest westelijke puntje van Vlieland mag je even uitstappen, hier ben je vlak bij het buureiland Texel. Rond de punt van de Vliehors zwemmen vaak zeehonden. De kans is groot dat je deze dieren te zien krijgt.
​
Het dragen van een mondkapje in de Vliehors Expres verplicht. Jouw ticket is inclusief een gratis wegwerp mondkapje.
​
Kaartverkoop + actuele tijden via www.vliehorsexpres.nl of op Dorpsstraat 20.
More information:
vlieland.net/nl/bedrijf/vliehors-expres
---
More dates for Rondrit met de Vliehors Expres
za.

4

december

2021

13:00 uur

zo.

5

december

2021

13:00 uur

wo.

8

december

2021

13:00 uur

za.

11

december

2021

13:00 uur

zo.

12

december

2021

13:00 uur

wo.

15

december

2021

13:00 uur

za.

18

december

2021

13:00 uur

zo.

19

december

2021

13:00 uur

wo.

22

december

2021

13:00 uur

za.

25

december

2021

00:00 uur

zo.

26

december

2021

13:00 uur

di.

28

december

2021

13:00 uur

wo.

29

december

2021

13:00 uur

do.

30

december

2021

13:00 uur