Guests can not bring their car to Vlieland. On Vlieland there are different ways to get to your accommodation. When the boat arrives there is a bus and a taxi waiting. You can also rent a bicycle.
Bus
TCR provides the bus on Vlieland. The bus timetable is available at the tourist office and is posted at the bus stops. You can view the schedule online here. Please note that there is a winter and summer schedule!
Rates 2016:
Single €1.70
Return €3.00
Week ticket €7.00
You can buy a ticket on the bus and at the tourist office. The OV-chip card can not be used on Vlieland.
Taxi
For a taxi you can call Taxi Zeelen: +31 (0)562-451222.
The electrically driven TukTuk will take you where you need to: +31 (0)6 302 238 86.
Bicycle
There are three bike rentals on Vlieland. Besides ordinary bicycles there are also electric bikes and scooters to rent. You can - with regard to the limited availability - reserve best in advance.

Vlieland has one village. On the eastern tip you will find the yacht harbour. At the western end is the Vliehors. The ferry arrives at the village.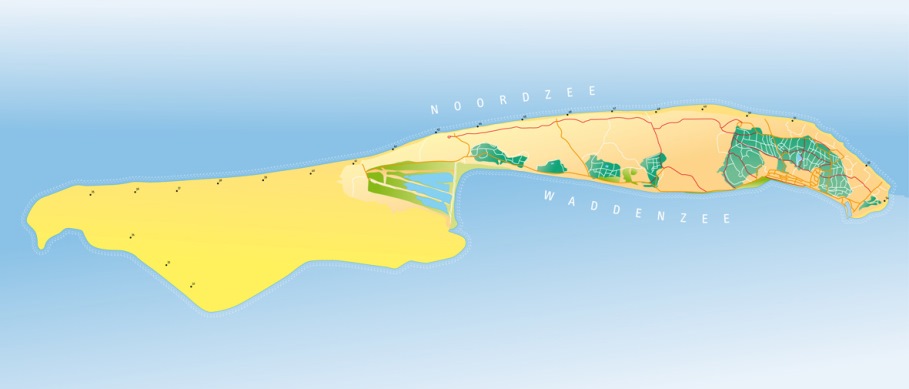 Below is a map of the area with holiday homes.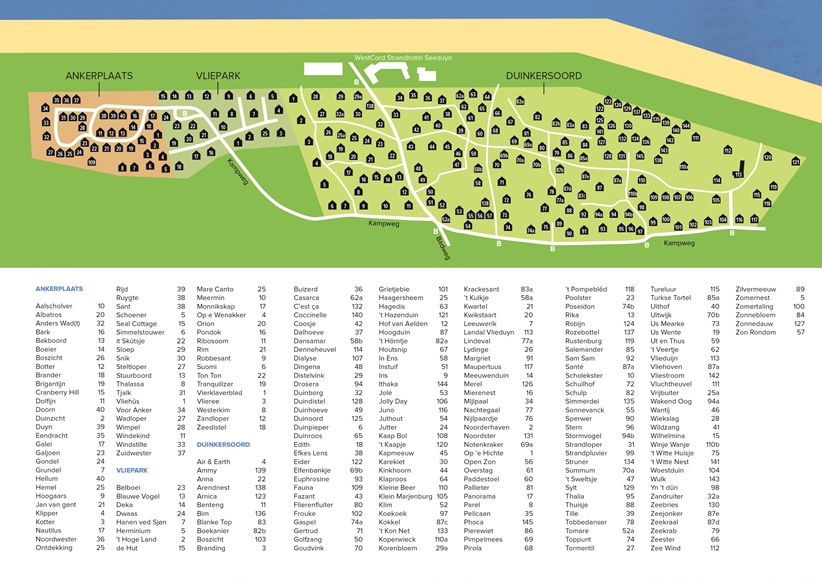 By car
If you are traveling by car from the Afsluitdijk or Sneek (A7), continue in the direction of Harlingen/Leeuwarden. Continue past the Harlingen exit and take the next exit, indicated with a picture of a ferry boat, towards Harlingen Haven (Harbor). Turn right on the roundabout, and at the next roundabout, continue straight. Follow the route toward Tsjerk Hiddes sluizen (locks), and turn right just before reaching the locks. A long term parking facility is located here. To reach the ferry terminal, cross the bridge/locks and turn right.

Traveling by car from Leeuwarden, on the A31, take the first exit on your right to Harlingen Haven (harbor), indicated by a picture of a ferry boat. Go right on the roundabout and follow the road to Tsjerk Hiddes locks, but turn left just before reaching the locks. A long term parking facility is located here. To reach the ferry terminal, cross the bridge/locks and turn right.
Public Transportation
An Arriva train connects Leeuwarden and Harlingen.

Travelers starting from Amsterdam or further away, should take the train to Alkmaar. In the summer, a direct bus connection (the Q-liner) goes from Alkmaar to Leeuwarden. Transfer at the Zurich bus stop - the driver will be sure to let you know when you have arrived. The bus to Harlingen Haven will be waiting for you.
For further information concerning departure times etc., please visit www.9292.nl or call 0900-9292.
Guests can not bring their car to Vlieland.
Harlingen has a range of parking options, both covered and open air. Directions to these parking areas are clearly sign-posted (ANWB). Most companies have a shuttle bus running between the car park and the terminal of Rederij Doeksen. These shuttle buses have connecting timetables to the arrival and departure times of the ferry.
For more information, please contact the car park concerned.
Parking facilities in Harlingen
Parkeergarage Veerterminal
Day rate from €8,80, night-rate from €4,20
Waddenpromenade 3 – 2
Tel. +31(0)517-420103
Parkeerterrein 'Tjerk Hiddes'
Rate from €6,10 per day (shuttle service €1,20 per person)
Skieppedykje 1
Tel. +31(0)517-413527
All in parkeren
Rate from €5,- per day
Oude Trekweg 86
Tel. +31(0)6-11341576
Autostalling 'de Bazuin'
Rate from €10 per day
Zeilmakersstraat 2
Tel. +31(0)517-412986
Autostalling 'De Stenenman'
Rate from €5,00 per day
Oude Trekweg 15
Tel. +31(0)517-433802
P2
Harlingerstraatweg 88-92
Tel. +31(0)6-22806068
Prices subject to change.
Rederij Doeksen provides the crossing from Harlingen to Vlieland and between Vlieland and Terschelling. On www.rederij-doeksen.nl you will find the timetable. Boat tickets can book online or by phone: 088-9000888 (local rate).
Bicycles are transported only on the regular ferry service and the express service between Vlieland and Terschelling and v.v.. Expired sailings or changed departure times due to force majeure are listed on the shipping company's website.
You can also opt for a fast passage with a water taxi. Inquire about the possibilities Waddentaxi or Watertaxi Vlieland.
You can have your luggage delivered to your accommodation upon arrival. Luggage transporters are on hand on the pier. Your luggage will be delivered by the luggage transport operators for a small fee per luggage item This gives you direct your hands free, for example, to get the key of your holiday home, rent a bike or do some shopping in the village.
And when your vacation is over? Then you can have your luggage delivered once again to the boat. Make sure you arrange this on the same day of your arrival or at least 24 hours before your departure..
Each Wadden Island has its own character and if you want to experience their unique character then island hopping is the way to go.
Texel – Vlieland and v.v.
Rederij de Vriendschap ferries you from mid May to September from Texel to Vlieland (or vice versa). The weather must be suitable for this. Bikes can only be brought for a one-way trip (so, not when you have a day return). You have to make a reservation when travelling from Texel (in the high season at least 1 week in advance). It is not possible to make a reservation when travelling from Vlieland. Tickets can be purchased on the island.
For more information, please go to www.waddenveer.nl
Vlieland – Terschelling and v.v.
The fast ferry service of Rederij Doeksen takes you from Vlieland to Terschelling (or vice versa). This ferry service is only operable during the summer season (mid April-September) on Tuesday, Wednesday and Thursday. You can also take your bike. We do recommend reserving in advance for this.
For more information, please go to www.rederij-doeksen.nl
You can also make the crossing with the clipper Willem Jacob. The clipper sails every Monday in 2014 during the months of July and August. You can even roll up your sleeves and help out during the crossing!
For more information, please go to www.eilandhopper.nl
It is also possible to hire a water taxi.
For more information, please go to www.waddentaxi.nl or www.vlielandwatertaxi.nl.
Vlieland – Schiermonnikoog
The Willem Jacob clipper will also take you from Vlieland to Schiermonnikoog via Terschelling and Ameland.
For more information, please go to www.eilandhopper.nl
Terschelling – Ameland – Schiermonnikoog and v.v.
Please go to the website of the Tourist Information Office (VVV Ameland) for more information on island hopping between the islands Terschelling, Ameland and Schiermonnikoog.
For more information, please go to Terschelling – Ameland
For more information, please go to Ameland – Schiermonnikoog
Vlieland Wadden Sea port is situated on the eastern tip of the island on the edge of the forest and the beach. The village is a fifteen minute walk away. The port offers about 300 passers-by a comfortable berth with amenities. Also located there is a working port for commercial vessels. In the port building are sanitary facilities, washing machines, a small supermarket (open from mid April to media September) and a cafeteria. There is a restaurant located in the marina. For children there is a small playground.
You are welcome all year round at the Yaght Harbour Vlieland.
It is not possible to reserve a berth.
For more information on www.waddenhavenvlieland.nl
Bakkerij Westers (bakery)
Dorpsstraat 98
Tel. 0562-451221
www.bakkerijvlieland.nl
Opening times:
Monday to Saturday from 8 am-12:15 pm and from 1:30 pm-5 pm.
Coop supermarket
Dorpsstraat 108
Tel. 0562-451226
Meer informatie
Opening times:
Monday to Saturday from 8 am- 6 pm.
Delivery for a small fee.
Spar supermarket
Dorpsstraat 38
Tel. 0562-451347
www.sparvlieland.nl
Opening times:
Monday to Saturday from 8 am- 6 pm.
Delivery for a small fee.
Slagerij H'eerlijk Eten (butchers)
Dorpsstraat 14
0562-453030
www.heerlijketenvlieland.nl
Opening times:
October to April; Mon. to Sat. from 10 am-12 noon and 2 pm-5 pm.
April to October; Mon. to Fri. from 9 am-12 noon and 2 pm-6 pm. Saturday until 5 pm.
Supermarket in yacht harbour
Havenweg 68
Open from mid-April to mid-September
Thuis ben je waarschijnlijk gewend om afval van elkaar te scheiden, maar hoe doen wij dat op Vlieland? Papier, glas en textiel  worden gescheiden.
Op de duinhuizenterreinen zijn er verschillende verzamelpunten voor afval, papiercontainers, glasbakken en restafval. Op de haven bij het havengebouw is een verzamelpunt en in de Dorpsstraat zijn bij de supermarkten glasbakken om het glas te deponeren.
Waarom wordt er op Vlieland geen afval gescheiden?
Voor niet bron-gescheiden gft-afval, kunststof, drankenkartons en metaal is nascheiding goedkoper en efficiënter.
Het afval wordt dus wel degelijk van elkaar gescheiden, in Ecopark de Wierde van Omrin komt dit afval in de scheidings- en bewerkingsinstallatie. Hightech machines halen zoveel mogelijk herbruikbare afvaldeeltjes uit deze afvalmix. Dit gebeurt bijna volledig automatisch.
Herbruikbare grondstoffen die uit het afval worden gehaald,  worden geleverd aan de verwerkende industrie. Deze maken er bijvoorbeeld nieuwe producten van.
Have you lost or found something? Return it to the town hall or fill in the form on the website of the municipality: www.vlieland.nl/gevonden-voorwerpen. The website includes also a list of found items.
Opening hours town hall
Monday till friday 9.00-12.00 uur
Tuesday also 14.00-16.00 uur
Dorpsstraat 127
Tel. +31 (0)562-452700
Why not take a Wadden trip with your colleagues? Whether it is an active trip or complete relaxation on the island: it will be a guaranteed hot topic afterwards!
There are four events agencies that organise group events/group trainings/company outings for Vlieland:
Get out the agendas; it's time for some team building on Vlieland!
Getting married on Vlieland
Vlieland has long been a popular location for weddings. Accompanied by family and friends far removed for the hustle and bustle of the 'mainland'. Or for those who prefer to get married quietly. Where else can you experience this nowadays? On Vlieland of course. An almost car-free island with wide beaches, woods and dunes. But also with adequate facilities to ensure every wedding party is a success.
You can get all the necessary information to help you prepare for the planned wedding via the municipality of Vlieland.
Everybody loves going on holidays. We all need to take some time off to relax and recharge our batteries. Even people who have (inpatient and outpatient) care would love to take a holiday but quite often cannot because they need care. The residential care facility De Uiterton offers people who need inpatient and outpatient care the opportunity to enjoy the island either alone, with their partner or together with their family.
Please go to the website of de Uiterton for more information on Holiday with care.
Beach wheel chair
Are you less mobile but would like to visit the beach? You can hire a beach wheelchair at the Strandhotel Seeduyn/the Badhuys beach crossing for €2.50 per hour. To reserve a wheelchair please call 06-10937324.
All church services are held in the Nicholas Church, Kerkplein 7.
Protestant congregation, open to everyone on the island:
every Sunday at 10 am. Minister ds F.H. Weeda, For more information call: 0562-850518
For more informatie, go to the website of the church.
Roman Catholic Parish:
On the third Monday of the month at 7:30 pm. Pastor S. Draisma. For more information call: 0515-542524
Services of the Reformed church (liberated):
2017: from July 9 every Sunday in July and August at 8.15 and 17.00. For more information call: 0596-516094 of 06-47196387
Kerkbezichtiging
Church viewing
The church is open every Wednesday from April to September from 10 am-11:30 am for viewing and/or a guided tour.
For more information please see: website Vlieland Protestant Congregation
Vlieland has a cozy library with a nice collection of (large print) books. They also have some magazines, newspapers and DVDs. For you as a vacationer ideal, because you do not have stacks of books to take more from home; which lend you at the library! After registration you can find out immediately titles. Vlieland library provides free internet and WiFi, the ability to scan and copy. Library members to borrow at no extra cost e-books!
Look here for more information.
Address
Lutinelaan 3 (in school De Jutter)
Tel. 088-1656123
email: info@bnfrl.nl